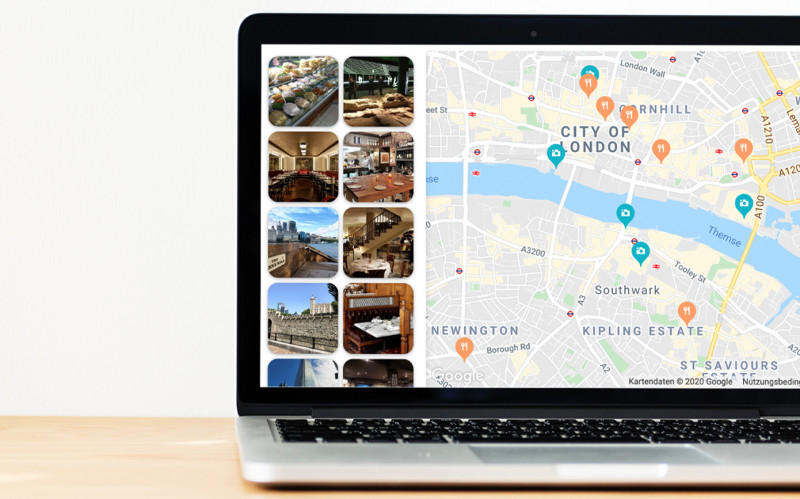 Insights |
New Maps feature for better conversions
Which customer does not want to know in what kind of neighborhood his future home or the booked hotel is located? Previously a complicated switch between different websites, the new Google Maps feature Local Context makes it easy: local information can be directly integrated into real estate or booking platforms. ​
Integrate local context directly into the website
Google released several new Google Maps features in June 2020. A particularly exciting one is Local Context: This allows companies to integrate local data from Google Maps into their maps in a simple way. This means that map users can access details of nearby locations including ratings, photos and directions directly on the map.
Seamless user experience increases conversion
Local information helps people make decisions: where to stay, where to shop, what to explore or where to live. When buying real estate, for example, it is often decisive in which environment the house is located and what infrastructure is available. The crucial question is: How many tabs do I have to open in the browser to get a comprehensive picture of my property or a hotel? In order to get a concrete idea, buyers or tenants had to switch between several tabs - at least Google Maps and the real estate platform - in their online search. Google wants to close this gap with its new Local Context feature, which enables companies to integrate environmental data into their desktop and mobile web applications.
Integration of around 200 million POIs
Through Local Context, Google's location information is available for about 200 million locations worldwide - including user ratings. So you can provide tremendous value to your users and keep them on your site. Another benefit is the display of estimated arrival time and directions to your destination. Local Context is easy to implement and can be added to existing maps, while retaining the other map functions. The cost structure has also changed, as billing is per session - without additional API requests.
Individually adaptable to your own company
Local Context provides customization of the local information. You can also restrict how many locations are displayed on your map to help users make decisions more quickly. For example, a hotel website can display up to 24 locations around its properties, and limit these locations to restaurants, tourist attractions, nightlife, and shopping. The design of the map is also customizable - from the color of markers and symbols to the positioning of UI elements.
Test Local Context in the beta version for free
Local Context is available as a library for the Maps JavaScript API and is free during the beta phase. If you have any questions, please contact our Google Maps expert Edin Hadzic hadzic@ubilabs.com or by phone (040 60 94 661 98).