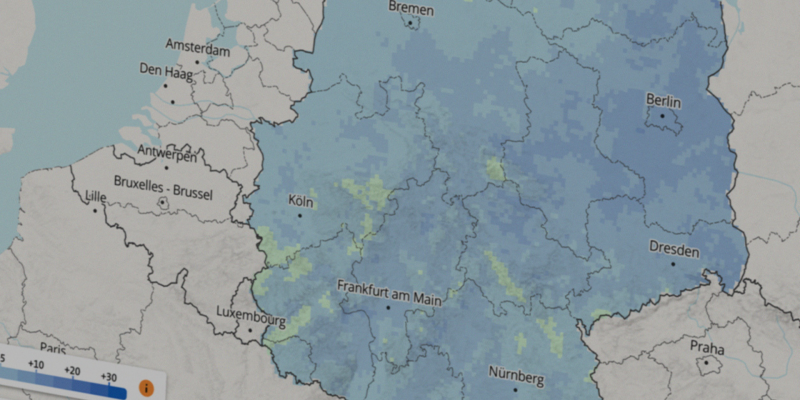 Visualization of big data in the browser
We make data visible, tangible and usable. The best way to do this is with visualizations in the browser. Browser-based applications are the ideal medium for presenting large amounts of data in an easy-to-understand and intuitive way. This makes it possible for users to discover contexts for themselves, to carry out analyses and to perform spatial planning more easily.
Making context comprehensible
Large amounts of data can be displayed particularly well and performantly with broswer-based applications – and very easily put into context with factors such as time and geography. This makes it much easier for users to grasp complex data and visually understand the relationships between them. With the ARD climate map, for example, users can explore climate changes in Germany on their own - on the map and over time.
Visualizations facilitate analyses
Large amounts of data that are visually processed in graphics or on the map are easier to grasp. This simplifies their analysis and the derivation of insights, e.g. for optimizing processes.
For leading shared mobility providers, for example, we develop solutions that help answer key questions about mobility services on a data basis.
Maps simplify spatial planning
When we put data on the map, it suddenly becomes spatially tangible. In this way, we can bring building plans to life, create digital twins of our cities, and facilitate site planning.
With our demo "Moving Hamburg", for example, we show how digital twins can be implemented and what benefits they have in the context of the smart city.
Our strengths in the development of data visualizations
We bring data to life on interactive maps, in time series, and in dynamic charts. Our services include the processing of data, the conception, the design, and the implementations of interactive data visualization.
Learn more about our services
What data visualization can do