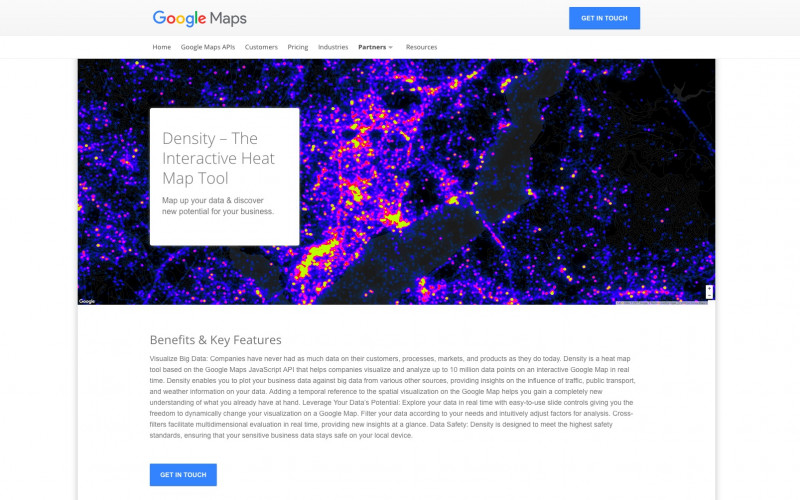 Insights |
Google Maps Partners Solutions Directory: Data Visualization Apps by Ubilabs
On May 2nd Google Maps launched its latest information platform for business customers: the Google Maps Partners Solutions Directory. It features industry-tailored solutions developed by Google Maps Premier Partners. Ubilabs presents its geo marketing applications Density and ATLAS.
Visualize Company Data with Density and ATLAS
Being a Google Maps Premier Partner, Ubilabs presents two visualization applications in the Partners Solutions Directory: the interactive heat map tool Density and the business intelligence software ATLAS. Both applications help visualize company data on a Google Map, allowing in-depth analyses.
Using Density, companies can visualize and analyze up to ten million data points on an interactive Google Map in real time. Density enables users to plot business data against big data from other sources, providing insights on the influence of e.g. traffic, public transport, and weather information. Adding a temporal reference to the spatial visualization helps identify untapped potential and gain a completely new understanding of what companies already have at hand.
In ATLAS' customizable data visualization, business data can be combined with hundreds of current market and demographic data sets provided by Nexiga and can then be displayed on a Google Map. The browser-based application offers powerful insights, supporting companies with site, regional sales, travel time, and multi-criteria analyses.
ATLAS is Ubilabs' geo reporting and business intelligence software. (Source: Screenshot Google Maps Partners Solutions Directory)