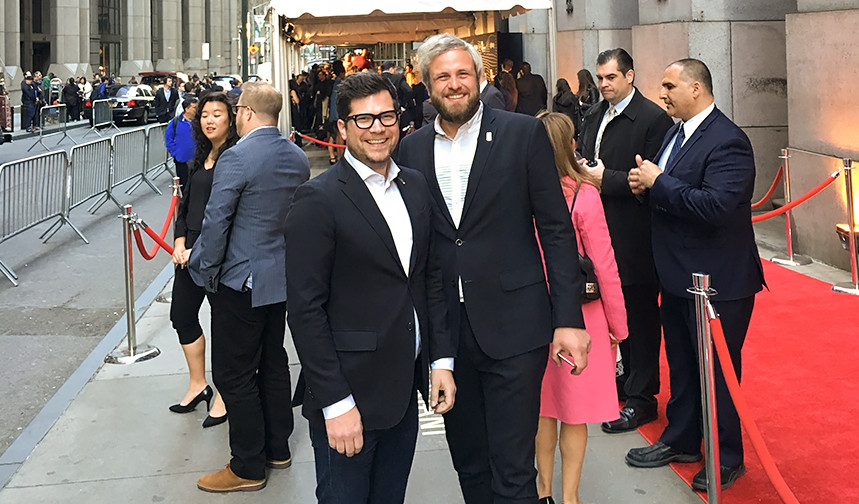 Insights |
Ubilabs and Miniatur Wunderland win Internet Oscar
On the winner's rostrum with First Lady Michelle Obama and Jessica Alba, the New York Times, Google and Spotify: Ubilabs is winner of the Webby 2016!
We are so excited about winning the "Webby People's Voice Award" in the category Advertising & Media (Travel & Leisure) for the Google Street View Trek Miniatur Wunderland. This project, which we have implemented for Google Germany, made a splash early this year: it opens access for a worldwide audience to the largest model railway layout in the world – using Google Street View. The special thing about it: There's never been Street View in such dimensions. The audience can experience the small world on a scale of 1:87 at eye level with the residents of the Miniatur Wunderland. With a range of more than 2 billion we inspired people on five continents with this unique project. From Hamburg into the world!
Michael Pletziger, Managing Director of Ubilabs, and Sebastian Drechsler, Marketing Representative of Miniatur Wunderland, received the Webby on May 16th, 2016, in New York.
In addition, two other of our entries have been successful at the Webby 2016:
Google Street View Trek El Capitan: Nominee in the category Best Visual Design and Best User Interface
Google Earth View Extension: Honoree in the categories NetArt and Best Use of Photography
We want to thank you for your support – and say special thanks to the Miniatur Wunderland and its global fanbase. Together we made it on the podium.