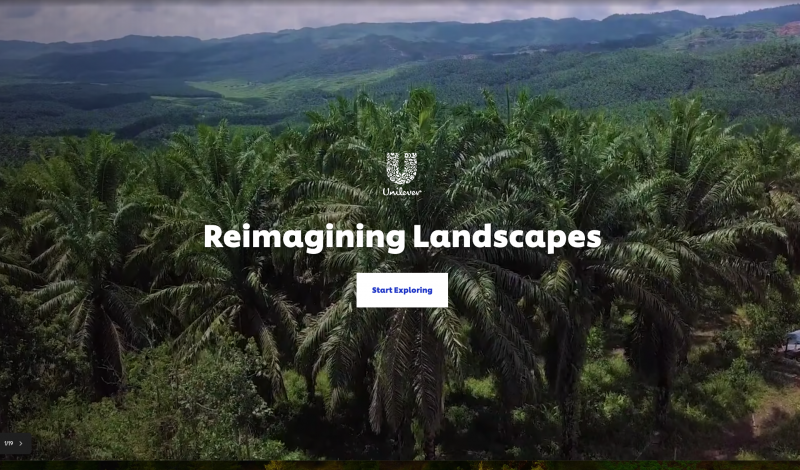 Insights |
Actions for a sustainable supply chain: Unilever's commitment comes to life through Google Earth Story
Immersive features of Google Earth Stories send users on a virtual journey to the supported regions
Unilever is committed to sustainable sourcing of their key agricultural crops and empowering smallholder farmers in their supply chain. This includes their palm oil supply chain, particularly from areas of Malaysia and Indonesia where a lot of their palm oil comes from. To showcase their commitment in a powerful way and focus on the projects they support, we created a Google Earth Story for Unilever that combines informative content with an immersive map display.
In Southeast Asia, the production of palm oil has led to major changes in the landscape over the past decades.Unilever collaborates with local organizations including government, NGOS and communities to help protect and restore forest in strategic oil palm landscapesfrom which the company sources palm oil. Together with Unilever, we created a Google Earth Story titled "Reimagining Landscapes" that highlights five of these initiatives in areas of Malaysia and Indonesia. The programs supported range from educational initiatives and financial support for resident farmers to forest, land and marine regeneration.
A virtual journey to the affected areas
The format of a Google Earth Story allowed us to create a unique way of storytelling that specifically focuses on the initiatives supported. Unilever's Story is structured in 19 chapters that present the supported programs in a special way while focusing on the regions, their nature and the people affected. In each chapter, users virtually travel to a region where the initiatives supported by Unilever are active. In addition to a wealth of information about the landscape as well as the aid programs, the locations are brought to life through maps, photos and video to enable interactive exploration.
Focusing on the Riau region

Focusing on small land owners with 360°-photos of their plantation
An immersive experience with new possibilities
In order to implement our ideas and Unilever's specifications within the framework of a Google Earth Story, we pushed the limits of the application as much as possible. The first major challenge was adapting the normally quite limited features of a Google Earth Story to the requirements of our ideas for this particular story, which we wanted to use to highlight entire regions. We were able to make the data we prepared visually impressive using the layers provided by Google Earth.
We wanted to make the story as lively as possible and provide users with a comprehensive experience. To make this happen, we included static photos and 360° photos as well as video footage via YouTube, which can further illustrate the initiatives' aid programs. In addition, they also provide insight into how the landscape is changing, for example through reforestation of forests in Malaysia and Indonesia.
Thanks to 360° photos and Google StreetView views, the current situation at significant locations can be even better assessed by interested parties. Users who want to learn more about specific aspects of the initiatives or better understand the background can download reports and other material as PDFs in many chapters. 
The data-driven storytelling of this solution is a new approach that enables both immersive and factual engagement with Unilever's efforts and the positive real-world impact.
See Unilever's Google Earth Story