Supply chain: Optimizing delivery times and logistics with data analytics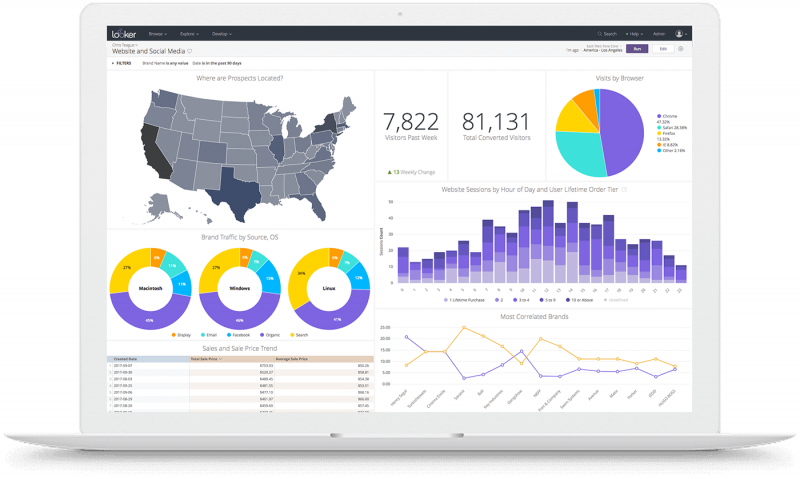 The supply chain faces enormous pressure at the moment. Delivery shortfalls, poor product quality or an overloaded fleet can cause long-term damage. Data analytics helps to quickly adapt the supply chain in times of crisis.
Get a live demo now
Customers that count on us
Supply chain law, supply chain bottlenecks: Procurement is under pressure
In a global sourcing network, it is business-critical to respond quickly to changes. Companies are expected to ensure production at all times, despite limited resources and uncertain forecasts about how the global situation will develop. The new supply chain law also sets out extended due diligence requirements for the entire supply chain - from raw material to finished sales product.
Get a live demo now
Looker BI Tool: Building a robust supply chain
Looker enables central data management and evaluations in near real time. Forecasts based on historical data facilitate planning. In supply chain management, Looker supports the following processes, among others:
Personnel planning
Automated order management
Slot management in production
Inventory Management and Planning
Supplier Performance Monitoring
Get a live demo now
How Looker supports the supply chain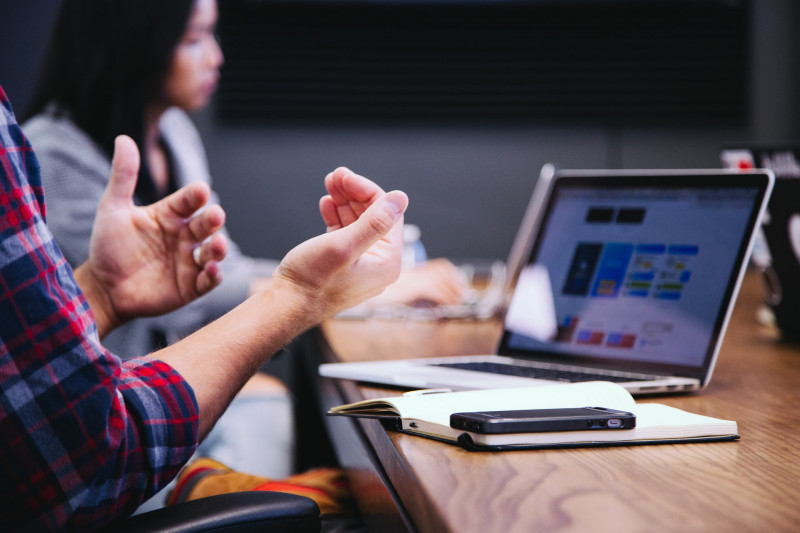 Well-founded decisions - thanks to a reliable database
Central management of your data provides you with a "single source of truth". At the same time, Looker creates easy access to information for all users and departments: Ensure democratization of data instead of data chaos.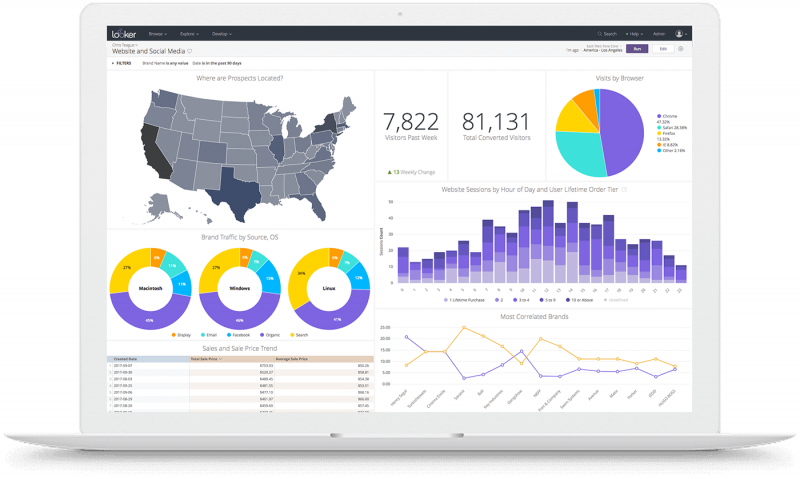 Efficient analyses in real time
High-performance analysis processes and easy access to individual analyses create the necessary scope for complex issues.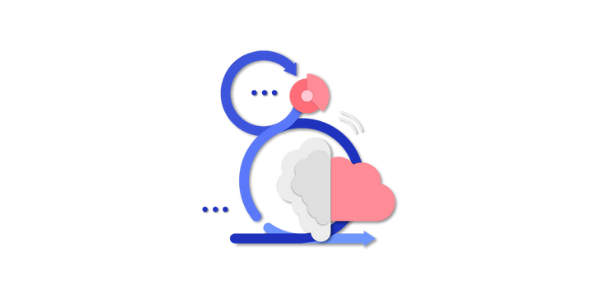 Multi-cloud with full agility
Looker integrates seamlessly with your business processes and third-party systems. Analytics are embedded directly into your software and running processes, giving you the agility and full control you need.
Live demo: Find out how to stabilize your supply chain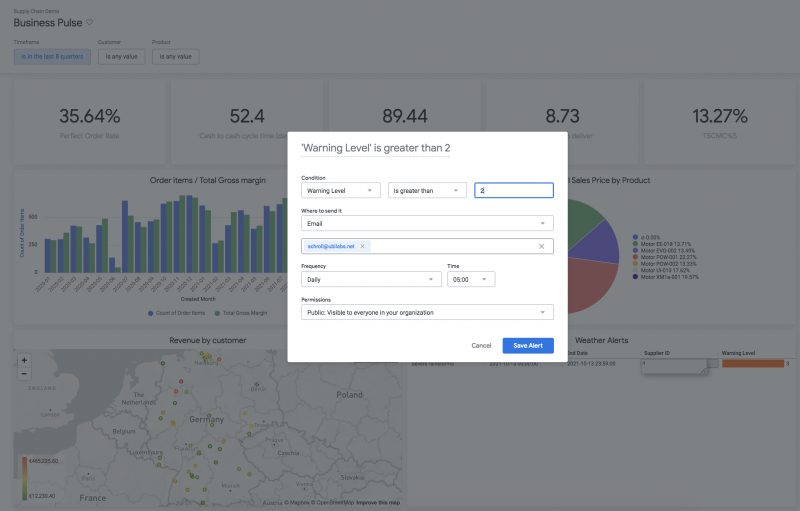 Make predictions to avoid supply bottlenecks
The procurement manager of a leading machine builder must ensure that all components are always available in the right quantity and quality.
With the help of Looker, he has defined a threshold value for each product based on predicted demand. As soon as the demand falls below this value, the system automatically triggers orders for all required product components from the respective sources.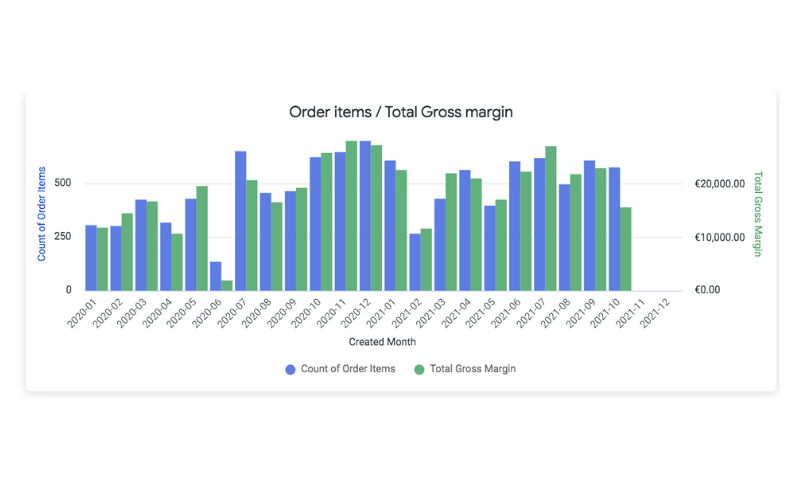 Automatic bookings and prioritization
The most time-critical task of a fulfillment manager is to process all incoming orders quickly.
Depending on the volume, urgency, importance as well as type of incoming orders, Looker puts their processing in an intelligent order. In addition, Looker automatically books all resources such as equipment and personnel needed to process the orders.
Monitor product quality and supplier relationships
A procurement manager, responsible for complete supplier performance management, has negotiated SLAs with each supplier.
These must be monitored continuously. Based on the fulfillment of these SLAs as well as the quality of the delivered components (e.g. damage rate), Looker automatically determines a rating for each supplier, helping Kevin to optimize his supplier portfolio.
FAQs
How much does it cost to use Looker?
Pricing is based on individual requirements such as the number of users and deployment scope. We will be happy to provide a cost estimate for your use case.
How long does it take to implement Looker?
We are at your side through every step of the implementation, optimizing and monitoring your systems from a process and technical perspective. As a rule, implementation is completed after eight weeks and the first results are visible.
What are the advantages of working with Ubilabs?
As a long-standing Google Cloud Partner specializing in data analytics, we help companies find the right solutions for their individual use case. Through the combination of industry experience and consulting expertise, our team can optimally support the implementation of data-driven supply chain management.