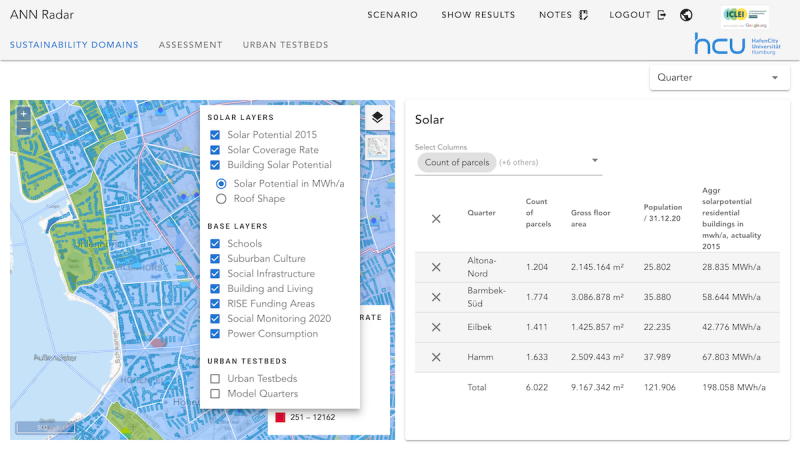 Insights |
Implement smart city projects more easily with ANN Radar
How the decision support tool "ANN Radar" increases the chances of success of urban pilot projects
Making informed decisions in the complex field of urban development is no easy task. In order to successfully launch smart city projects, a comprehensive data basis is of great importance. To create this data basis for decision makers, Jens Bley and Kay Hartkopf, the two initiators of the "ANN RADAR" project at Hafencity University (HCU), dedicated themselves together with Ubilabs to the development of a tool that collects and visualizes data on solar potential, energy efficiency and mobility in order to identify appropriate areas for pilot projects and urban testbeds.
The global trend toward urbanization is causing metropolises to burst at the seams and poses ever new challenges for urban planning. How can we improve the quality of life in cities while taking into account current developments as well as physical conditions and social factors? Together with HafenCity University (HCU), we have developed ANN Radar - a tool that makes it easier to plan urban pilot projects for greater sustainability.
Decision support for urban pilot projects
ANN (A New Normal) Radar is an interactive decision support tool that can be used to identify spaces and districts within a city that are suitable testbeds for pilot projects. ANN RADAR supports both the interactive data-based identification of Urban Testbeds and the documentation of the selection process. The tool is based on public and private environmental, climate and energy data, which are processed and visualized in a clear way. This makes it easier to make data-based decisions in the complex field of urban development.
But why do we need such a tool? Urban planning is highly complex and is caught between countless urban development factors, climate and sustainability efforts, and actors from administration, business and civil society. If you want to make cities more livable, you have to take all of this into account. The planning and implementation of urban development projects is correspondingly demanding.
The goal of ANN Radar is to increase the success orientation in the distribution of project resources in urban planning. Until now, resources such as grants, urban real estate or human resources have been allocated rather opportunistically, based on the level of knowledge and contacts of the people involved. The tool enables project allocation on a rational, fact-based level.
ANN Radar thus aims to plan highly localized pilot projects on a smaller scale exactly where they can cause the greatest impact and provide the most meaningful insights. This reduces the otherwise typical risk factors in urban project planning:
High investments in extensive projects
Uncertain chances of success
Unclear impact on environment and society
Difficult to define requirements for the necessary technology
Difficult to assess acceptance in society
Experiments as an entrance into larger sustainability projects
Instead of long-term projects, ANN Radar targets so-called Urban Testbeds and Living Labs - experimental, low-threshold pilot projects that have established themselves as a method in urban planning due to their promising findings. These pilot projects are suitable as a test for the chances of success of larger projects and bring several advantages in comparison:
They take place on a smaller scale and can therefore be planned and implemented more quickly.
They require fewer resources and funding.
They deliver initial results more quickly.
They can take place in a more flexible environment.
Pilot projects are particularly well suited as an entry point for larger sustainability projects, as they already represent a form of risk reduction. Instead of investing 10 billion from the outset, one starts with a comparatively small investment of 10 million euros and thus has the opportunity to improve and optimize the project instead of focusing on planning for the next five years.Especially in times of uncertainty, when technological aspects or social acceptance are not yet fully understood, pilot projects offer an excellent opportunity to implement projects in the field of sustainability. Through experimental testing, potential impacts on the surrounding environment and people can be better assessed.
How does ANN Radar work?
ANN Radar identifies spaces that can be used as urban testing grounds for energy innovation. It does this by processing urban data and evaluating local climate and sustainability strategies. The current prototype incorporates data from Hamburg and serves as a blueprint for further development by urban companies or organizations.
The data pool is composed of various sources (and can be further expanded) and focuses on climate-relevant data from the areas of solar, energy efficiency and mobility:
urban data from the Urban Data Hub of the City of Hamburg
self-collected data from HCU, e.g. from testbeds or climate plans
socio-demographic data from the Statistical Office North
The tool prepares this data and presents it in a structured way on the map. This makes it particularly easy for users to identify urban areas as test sites for pilot projects that are in line with local climate protection goals.