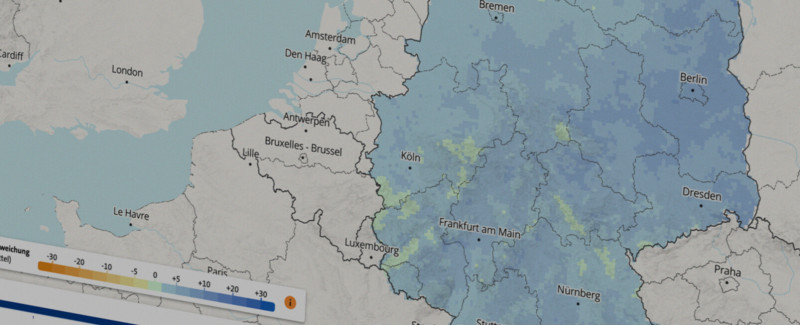 ARD Climate Map: Climate Change Forecasts for Germany
Explore climate changes in Germany on your own
When will the next summer of the century come?
Now everyone can experience the consequences of climate change in Germany on a mobile-optimized map - and look forward to the year 2100. On behalf of ARD, we developed the concept, design, UI, prepared the data and selected the appropriate technologies.
Explore the german climate interactively
Periods of drought, floods, storms - climate change can be noticed in everyday life as never before. With a journey through time, ARD wants to stimulate a playful exploration of the climatic changes. The interactive map of Germany ard-klimakarte.de shows the development of temperature and precipitation over the past 60 years. Using a controller, forecasts can be made up to the year 2100 - in two scenarios: without climate protection and with a strong commitment to climate protection. 
A complex topic becomes clear
An exciting challenge for us was the high scientific standard and the desire to make the knowledge available to a broad public. After a joint concept workshop, we developed a card that works on any device. Supported by a clear design and user interface, the extensive database can be intuitively navigated and filtered even on small screens.
Data preparation and visualization
The climate data is provided by Deutsche Wetterdienst (DWD). We have converted the scientific data into a format that is tailored to modern visualization purposes, thus building a bridge between GIS data and a broad target group.
Technologically advanced
The map uses Mapbox in combination with self-hosted OpenStreetMap data. The focus on open source and freely available data allows a long-term cost-effective use of the application. In addition to hosting the map data, ARD's infrastructure also allows for easy integration of multimedia content into the map. This ensures that the map can be expanded in the future.
Explore the ARD climate map