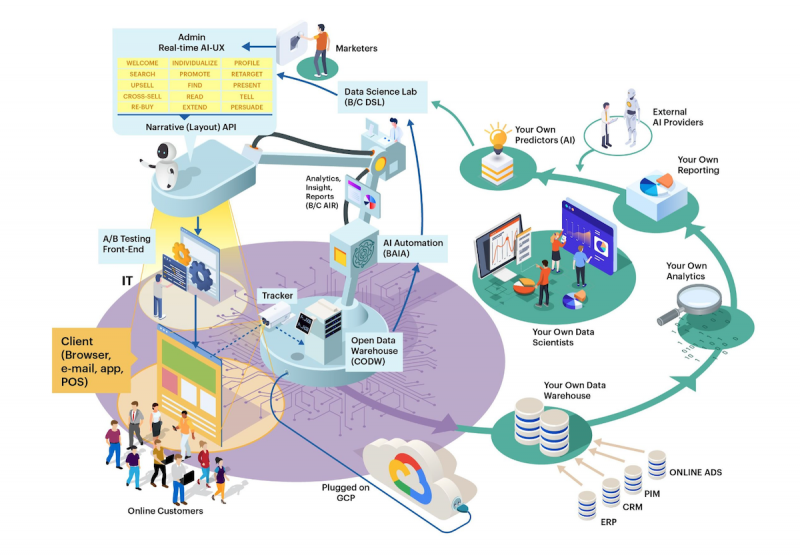 Insights |
Fast & affordable: How Boxalino optimizes e-commerce with real-time AI and BigQuery
How Boxalino increases their customers' e-commerce success with an optimized BigQuery-driven ecosystem
Swiss AI service provider Boxalino personalizes and optimizes e-commerce shops and websites in real time – in a way that helps their business customers save time and increase revenue.  But how were they able to achieve that? They built a data science ecosystem that makes use of machine learning and AI in Google Cloud. We supported Boxalino as an intermediary partner with cost management and the set up of data pipelines for their generic, out-of-the-box data warehouse.
Real-time optimization in e-commerce
Saving 80 % of the data collecting, cleaning and organizing portion of engineering time and creating additional 5 % to 20 % of revenue in e-commerce - that's what AI service provider Boxalino has achieved with their Winning Interactions real-time platform. The platform connects to existing e-commerce shops, e-mail marketing systems, apps, and portals in order to provide each customer with a personalized user experience – automatically and in real time, with the help of machine learning and artificial intelligence.
For an e-commerce webshop this will look like content that is being customized to the likes and needs of the end customer via:
dynamic banner campaigns with related product recommendations
personalized website copy and auto-generated product labels
customized blog and product recommendations based on real-time predictions
This makes the user experience on e-commerce websites and shops much more relevant and personable to the customers, while creating an incredibly wide range of experiences that wouldn't be achievable manually.
Google BigQuery, the powerful warehouse for Boxalino's data collects
In order to provide such a powerful dynamic service in real time, Boxalino built an out-of-the-box, modular data science ecosystem with advanced data mining and AI-automation. They needed data processing pipelines to load data (such as products, transactions and online behaviors) into the generic data warehouse structure in BigQuery with SQL-based data analytics and Tensorflow predictive models in order to optimize real-time UX. Google Cloud Platform and specifically Google BigQuery provided the tools and framework for the data warehouse that Boxalino had in mind.
The appeal of the Boxalino ecosystem grew significantly in 2022, thanks to the growing adoption of Google Analytics 4, enabling easy and cheap integration of the online behaviors (deeply connected with the Google Ads data) to BigQuery. These valuable data collects have now become an out-of-the-box component of Boxalino's platform.
A set up built to succeed
Creating such a large-scale data warehouse solution is not an easy feat without specialized expertise. As a Google Cloud partner with the  Data Analytics Specialization we supported Boxalino as an intermediary partner with the console management as well as consulting on building the data pipelines for the generic data warehouse. Building the platform, Boxalino needed to set up a highly advanced data processing and data mining as well as data pipelines. We helped with the system composer, recommending Cloud Run functions as well as setting up the workflows to orchestrate and automate data input. We also supported Boxalino  with centralized, well-structured billing and secure multi-account access.
Google BigQuery provides real data agility for e-commerce customers
Seeing the type and quantity of data that Boxalino collects, Google BigQuery proved to be the ideal data warehouse choice. It is able to perform incredibly efficiently on this kind of data collects and can quickly apply complex logic – a key requirement for real-time services such as Boxalino's live AI optimization. BigQuery provides data in a speed, at which meaningful results could be achieved and therefore creates true scalability. Combined with the on demand pricing it provides the perfect ground for Boxalino's Winning Interactions real-time platform.
We were already highly satisfied with BigQuery working only with our own data, but since the adoption of Google Analytics 4, offering BigQuery Data Transfer we fully integrated in our data science ecosystem, we are now able to deliver more value for our customers faster and with less integration efforts!
Succeeding in the big boys game
Whilst most companies have the necessary data to accelerate their business, not many have the technical capacity to exploit them. Since most of the engineering time falls to the data collection, cleaning and organizing part, not much time is left for the real engineering. Yet if companies want to succeed in the big boys game, they need to use data warehouses that enables scalable analysis over petabytes of data.
The data science ecosystem from Boxalino is a great example for a solution that enables customers to use their data in BigQuery without the hassle of the engineering time for collecting and cleaning data.