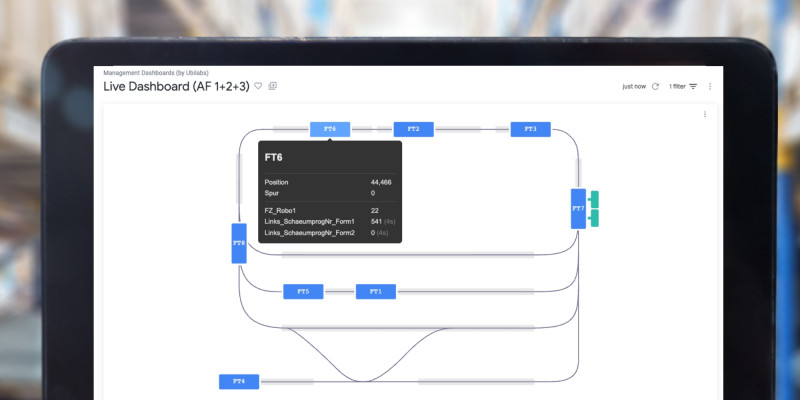 Insights |
Data-driven process optimization in manufacturing with Looker and Google Cloud
How F.S. Fehrer Automotive monitors its production facilities and makes the data obtained available to its employees
Fehrer was faced with a major challenge: in order to further optimize its processes and remain internationally competitive, the specialist for components in vehicle interiors had to find a way to deal with its treasure trove of data. With the help of Google Cloud and Looker, Fehrer launched a project to monitor, analyze and optimize its manufacturing facilities. We supported the project by developing custom data models and dashboards in Looker that visualize one of the production lines.
Data in manufacturing - the decisive guarantor of success
Huge manufacturing plants that produce vast quantities of parts - and can deliver vast quantities of data at the same time. But in manufacturing, where legacy systems have often been used for decades, a particularly good data infrastructure and modern tools are needed to mine this treasure trove of data. F.S. Fehrer Automotive GmbH (in short: Fehrer) has recognized the competitive advantage in this and has installed sensors that provide valuable data from production. The streaming data is now being converted into useful insights with the help of Google Cloud and Looker.
Especially in manufacturing, data plays a crucial role now and in the future. Not only does it accrue in large quantities in every process and every production facility, it is also doubly useful if it is properly analyzed: In addition to pure business intelligence use cases, for example, in merchandise management and pricing, the data can also be profitably used to optimize production processes. Processes can thus be monitored, improved and transformed with Artificial Intelligence - with huge optimization potential for manufacturing, supply chains and maintenance, among others.
Like many other large manufacturing operations, Fehrer faced a complex challenge in using its data:
Devices and database systems have been used for decades, but are not able to communicate sufficiently with each other and store data adequately.
There is a lack of modern tools and structures to process data and derive insights.
The requirements for skills in the area of data and IT are growing steadily with increasing digitization, complicating the already existing shortage of skilled workers.
Fehrer was therefore looking for a solution that could not only collect, organize and analyze the accumulating data, but also make the analysis of the data so simple and accessible that even employees without a data science background could do it.
Monitoring of manufacturing plants with dashboards in Looker
In order to collect the production data, Fehrer worked with Google to set up a data infrastructure to store the real-time data. We then came into play to analyze the data: With the help of the Looker BI platform, we mapped one of Fehrer's production plants in interactive dashboards.
The core element of the dashboards is the schematic visualization of the production plant as a customizable widget in Looker. The plant's processes are displayed in near real-time and can thus be analyzed and optimized. The dashboards provide information about robot positions, production areas, and key performance indicators, making it easier to identify and address anomalies in the running operation, such as compressed air losses, elevated temperatures, and jams.
The benefits of Looker dashboards for Fehrer are many:
The dashboards enable significantly more insights when monitoring the production process.
The dashboards are easy to access and use. This means that production employees can also take on tasks that would otherwise require data scientists.
Fehrer can use the dashboards to make data-driven decisions to optimize production.
The insights can be used to optimize production, respond more quickly to disruptions, and reduce energy consumption.
For Fehrer, such a solution currently increases the efficiency and security of their processes and makes it easier to make decisions in real time. Looking to the future, the combination of Google Cloud and Looker still holds enormous potential - if monitoring becomes automation.
If the solution is expanded to include artificial intelligence functions, for example, maintenance tasks can be predicted and automated. In this way, disruptions and failures could be prevented - a further key to successful process optimization in manufacturing.