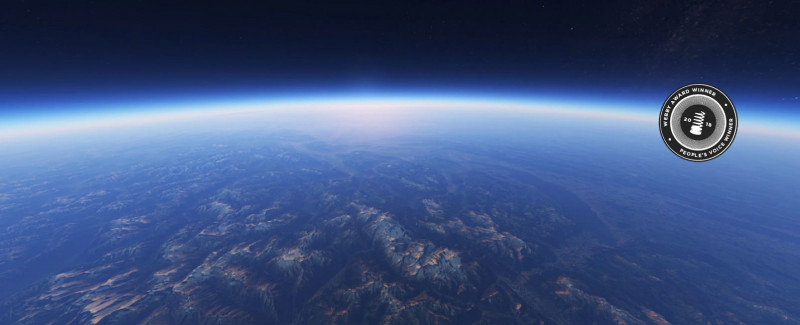 Google Earth: Remaking the Classic
Broaden your horizons with guided tours in Earth's new feature, Voyager.
The world at your fingertips
Experience our planet with the all-new Google Earth by diving into fascinating landscapes and inspiring global stories. With a major visual and functional refresh, Google Earth introduced exciting new features and tools. The highlight is Voyager, a storytelling platform with partner-authored content. Ubilabs is proud to be a contributor, supporting Google in the content production and processing for some of Voyager's most exciting stories. Among them you'll find two of our projects, Earth View and Miniatur Wunderland. Voyager takes you on trips around the globe, showcasing the stunning Earth View images and the real-life counterparts to the model railroad tracks. Wherever you go, a new story awaits!
With voyager there is always something more to do and learn about.
Gone are the days of dusty old atlases! Since its beginning, Google Earth has made the exploration of our vast planet a fun experience. After two years in the making, a remake of the classic Google Earth has finally been launched, bringing the world even closer to your doorstep than before.
Voyager tells a global tale
One of Google Earth's exciting new features is Voyager, a platform for stories around the globe. With Voyager, Google Earth not only takes you to your desired destination, but immerses you into a global adventure where there's a lot to do, learn, and explore. Starting on launch day April 18, Google features compelling partner-authored content ranging from culture, to wildlife, to global treasures, spinning a tale around the globe.
For the past few months, Ubilabs has been supporting Google in the production and processing of this content. Coming up with unique approaches to storytelling and translating these ideas to Voyager's functional and visual features has been an exciting experience. We are especially proud to have two of our favorite projects, Earth View and Miniatur Wunderland, be among the first Voyager stories to be published during Google Earth launch week.
Earth View: Beauty from above
From breathtaking coastlines to rugged snow-covered mountains – viewing the earth from above opens up a unique perspective. With Earth View, users can access high-quality satellite images showcasing areas of exceptional beauty. What originally started out as a Google Earth "Easter egg" (i.e. a hidden function) has quickly become a source of inspiration for many. Having worked closely with Google on the Earth View layer for the past months, we're excited for our Voyager content going live. Not only can our favorite Earth View images be accessed via markers on the globe, a brand-new color bar allows for a unique navigation through the images, creating a visually compelling global narrative.
Miniature worlds around the globe
Who wouldn't want to be a kid again, given the chance? When creating 360° panoramic views for a miniature Street View Trek of Miniatur Wunderland's model railway world in 2016, we were able to relive our childhood dreams of being a conductor. With the all-round refresh of Google Earth, we were given the opportunity to dive into the little worlds again. Creating a storyline around the marvels of Wunderland, we connected a variety of real places around the globe with their miniature equivalents in the model railway world. In Google Earth's Voyager, you can tour the valleys of the Grand Canyon, stop by the past U.S. presidents at Mount Rushmore, and go to a soccer match in Hamburg's stadium, all while checking up on the details provided by Wunderland's tiny renditions.
New features for continued exploration
Not only will the new Google Earth inspire explorers young and old with the immersive storytelling platform Voyager, but will surprise users with new tools and a streamlined interface. If you're curious, hit "I'm feeling lucky" and let Google Earth take you on an unpredictable adventure. "Knowledge Cards" add to the experience, providing all the intriguing bits and pieces of information that make exploring our planet so worthwhile. The new Google Earth app will be available on the web via Chrome browser at http://earth.google.com/web and a native Android app available via the Google Play store. It rolls out on iOS and other browsers soon.
EDIT: We are Webby 2018 winners!
We are very proud to announce that we were awarded four "Internet Oscars" this year. Our Google Earth Voyager stories "Total Eclipse of the Sun" and "Google Earth View" were nominated in the categories "Best Data Visualization", "Best User Experience", and "Technical Achievement" and not only won People's Voice in all of them but also a Jury Award! We are beyond happy about the recognition of our Voyager stories and would like to thank all of you who voted.
Let Google Earth take you places