Insights |
Business Intelligence with Looker: Data-driven action at all levels
Interview: Answers to the most frequently asked questions about Looker
The business logic of a company changes as the company changes. A good business intelligence tool must grow with the company and be flexible, reliably access and process data, enable employees to perform data-driven actions, and much more.
In our interview, Customer Engineer for Looker Philipp Hagmann explains the advantages of Looker and why Looker is the best BI tool on the market for us.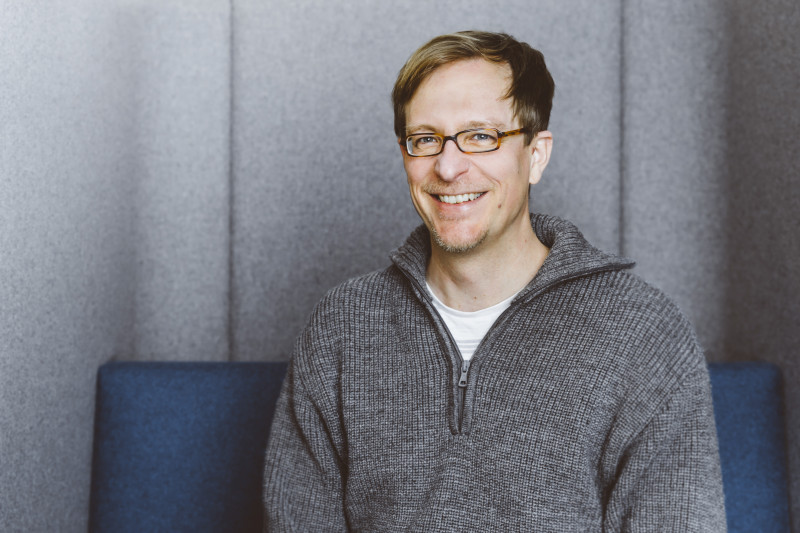 Philipp Hagmann is a Customer Engineer specializing in Looker at Ubilabs and thus the technical contact for our Looker customers. He deals with their requirements and challenges and can realistically assess the feasibility of the customer's wishes.
He accompanies interested companies during a two-week proof of concept, after which he is also the contact person when it comes to implementing the tool, training IT staff on the customer side and individual requests such as special visualizations or similar. If you are interested in a proof of concept, you are welcome to make an appointment with us directly to discuss the possibilities.
How long have you been involved with Looker?
I originally come from a physics background, I've just always enjoyed working with data. I have been involved with the original Google Data Studio, now Looker Studio, for over five years. Unlike Looker Studio, however, the Looker BI platform is a really different tool - even if the name is similar. The semantic layer makes it much more flexible and scalable to use, but of course more complex.
When Looker was acquired by Google in 2019, we at Ubilabs very quickly came to the conclusion that this tool could add a lot of value for our customers. That's why we became an official Looker partner early on and also got certified as a LookML Developer. I have been on board ever since.
What are the biggest advantages of Looker as a BI solution? What sets Looker apart from other BI tools?
Looker is very mature compared to other business intelligence tools and combines two central ideas particularly well: on the one hand, central data modeling, and on the other hand, working with live data. Looker goes directly to the database, so that everyone always has the same data status and can communicate about the same KPIs thanks to the model - no matter when and how often the business logic and thus the model is adjusted. In contact with the database, Looker is extremely flexible and can communicate with almost any database.
In addition, the tool is cloud-native, can run entirely in the browser, and of course offers great visualizations. Many actions can also be performed directly from the dashboards, such as setting alerts, triggering processes in other tools from the UI, or informing colleagues about current developments.
For whom is Looker a suitable BI solution?
On the one hand, Looker is suitable for high-revenue companies where the activation of data should quickly refinance the tool and where large workforces are to be provided with data insights with a relatively small data team. On the other hand, of course, highly data-driven companies benefit by investing in a very powerful and scalable solution with Looker.
In addition, Looker is a good choice when fast time-to-value is important. In simple cases, the first database connection, an initial data model and the first dashboard are ready within an hour. The proof of concept is completed within two weeks on the company's own data, after which other data sources can be connected and made usable in a short time.
Can Looker integrate with existing systems, even outside the Google Cloud?
Looker is cloud-agnostic, so it can seamlessly connect to databases from all major cloud providers. In the best case, the database "speaks" a SQL dialect, but more and more noSQL databases are also supported. It is also possible to merge and blend data from different databases, from different cloud providers or on-prem databases first in Looker. This openness is an advantage not to be underestimated compared to competing products that force the customer into a strategically intended vendor lock-in.
In addition, the data from the complete platform can also be used exclusively via the API and delivered to other applications. This ensures that the applications already implemented use live data that "follows" the currently valid business logic.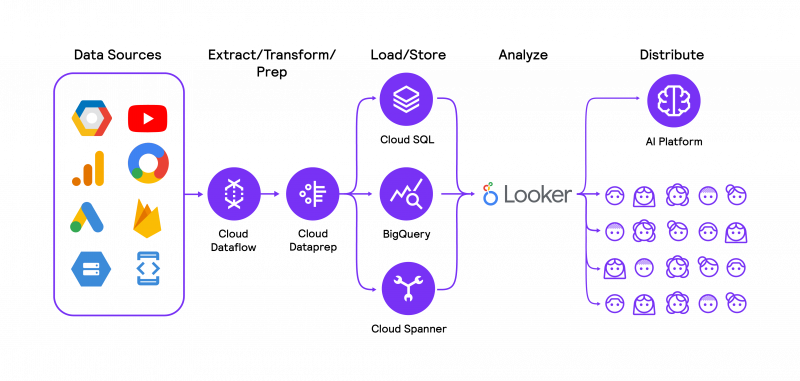 Do end users need to have certain technical skills to use Looker?
The end users can be roughly divided into two skill levels, neither of which requires SQL or other database knowledge. On the one hand, there is the standard user, who primarily works in the predefined dashboards with predefined metrics and makes a few adjustments to the display and filtering of the data, in the simplest case, for example, a change in the period under consideration.
The second skill level is the explorer. These are usually curious people who have some confidence in working with data and want to explore it in an exploratory and interactive way. Explorers usually need a little more contextual knowledge and possibly a little Looker training. They go one level deeper, in Lookers Explore environment. At the same time, Explorers are usually the people who create the dashboards for the standard users.
What types of visualizations can be created in Looker?
On the one hand, there are the default visualizations, such as simple tables, bar charts, pie charts, waterfall, etc. This standard list of visualizations can be extended with visualizations from the Marketplace.
On the other hand, visualizations can also be created highly individually. For Fehrer Automotive, for example, we built a complete visualization of their production hall as a dashboard tile, where users can see the location and status of the robots live. So: A super basic repertoire of visualizations, but completely freely extendable via Javascript, if needed. These visualization options are only a small part of the many advantages of the tool.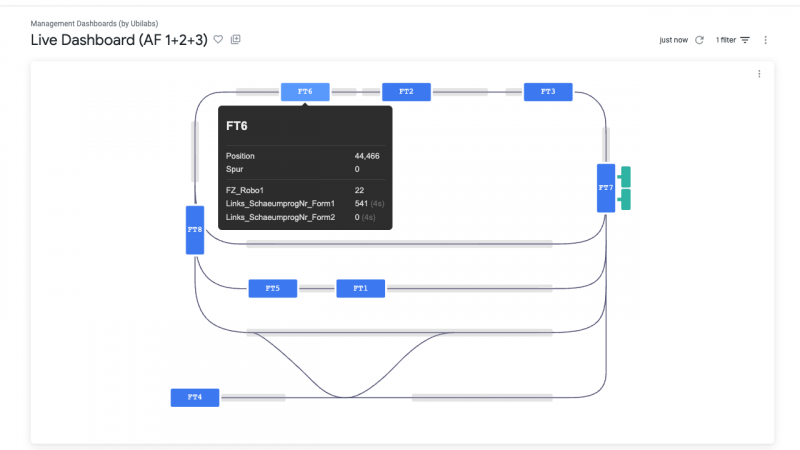 How secure is my data when I use Looker for my business?
Basically, the data remains where it was before, for example in the data warehouse in Frankfurt. It is not permanently cached anywhere, as is often the case with other systems that work with pre-aggregated data. Of course, there is caching for performance and cost reasons, but this is finely configurable. In the cloud-hosted variant, companies can also specify which cloud provider and data center will host their Looker instance.
For highly regulated data that is not allowed to leave the premises, such as at banks or hospitals, it is also possible to host Looker independently. With this option, Looker then runs on local hardware, with all the advantages and disadvantages. However, we can recommend the cloud-hosted variant to most customers with a clear conscience.
Why should customers use
Ubilabs

for implementation?

Customers who implement Looker projects with us have a direct contact person with many years of Looker expertise at their side. If questions arise, we respond quickly and straightforwardly and are happy to invite customers to our office for a coffee. Our employees are experts in LookML and are also available to assist with complex data models with a great deal of background knowledge during implementation.

An often overlooked point is that working with Ubilabs makes no financial difference at all for the customer. This is because even if we are involved as a "middleman", the customer pays the same price as Google directly. Our work is paid for by Google, creating a true win-win-win.

In addition, we bring expertise in related areas, such as Google BigQuery or individual data visualization in the frontend. No matter if it's a 3D visualization like at the X-Alps race or the WebGL demo for Google, with which they presented the new Maps features at I/O - we have really good people for such things and implement the individual visualization wishes of our customers.
Do you still have questions or are you interested in a proof of concept?
Feel free to contact us directly to get in touch with our Looker specialists.