Every year during the month of November, map geeks from all over the world join to take part in Topi Tjukanov's #30daymapchallenge. Some of our colleagues also took the opportunity to participate in the challenge and compete with like-minded people, to challenge oneself and to exchange ideas. The results were impressive and we wanted to share some of the great designs, stories and data visualiations.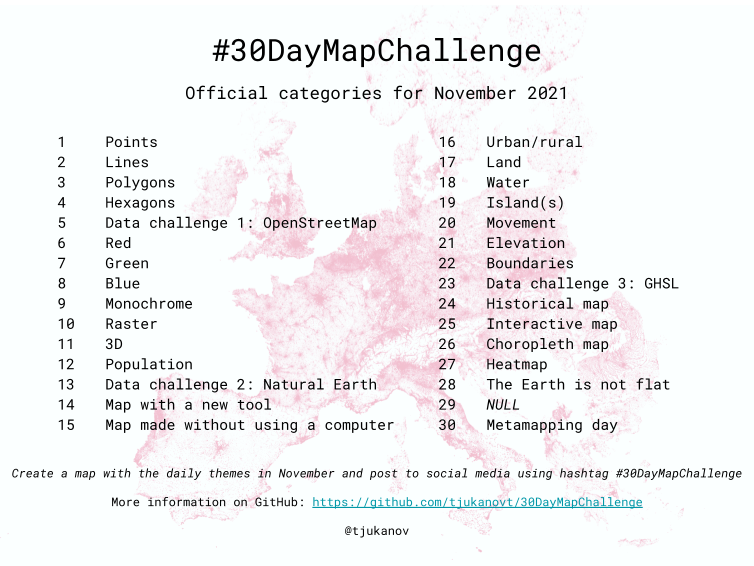 The challenge
While the categories for each day are predefined, there are no limits to the implementation. Through creative ideas and interesting data sets, different and extraordinary maps are created on each day despite the predefined categories. Our colleagues Martin Kleppe, Sabrina Jodexnis, Patrick Mast and Achim Tack created maps that tell stories, create contexts or display geodata as small works of art!
Day 3 - Polygons - map style like a painting from Jackson Pollock

Day 09 - monochrome - reduced comic style

Day 21 - elevation - raw shades of the alps

Day 28 - earth is not flat - new perspective
Martin Kleppe
Head of Development
Martin dedicated the challenges themes to the map styling with a focus on the city of Hamburg. His maps are partly abstract interpretations of the categories reminiscent of artworks by artists such as Jackson Pollock.
Tag 01 - Punkte - Start der persönlichen Quest, QGis besser kennenzulernen

Day 09 - monochrome - Offset Look

Day 15 - no computer - family drawing

Day 18 - water - life lines of the earth

Day 28 - earth is not flat - keeps turning and turning
Patrick Mast
Project Owner
Patrick took the challenge as an opportunity to deal with a new topic (in this case QGis). He visualizes the whole world in his maps and shows exciting data correlations on the world map.
Day 4 - Hexagons - Availability Stadtrad Hamburg

Day 05 - Open Street Map data - distance main station to public toilets

Day 08 - blue - The river Elbe

Day 11 - 3d - memorial St. Nikolai in Hamburg

Day 18 - water - The river Elbe

Day 20 - movement - traffic in Hamburg
Sabrina Jodexnis
Software Engineer Frontend
Sabrina is also dedicated to the city of Hamburg. Her maps partly remind of illustrations in a book about Hamburg and partly they tell their own stories through the data. For example, one of her maps shows the distances of public toilets from Hamburg central station.
Day 11 - dD - 3d-visualization of stop density with AerialOD

Day 15 - no computer - crafts of subway lines in Hamburg

Day 22 - borders - tariff zones

Day 27 - heatmap - public transit
Achim Tack
Cloud Consultant Data Analytics
Achim's maps also fit in with the thematic focus on Hamburg, but he has placed all the topics of the challenge in a context of public transport in Hamburg. So far, timetables and stops in Hamburg have rarely been shown in such an impressive and extraordinary way!
One category - many map styles
The challenges always offer new opportunities to learn something, to exchange ideas with the community and to be creative. Thus, these maps are not created for a certain client project but simply from creativity and personal interpretation of the topics. So even within one categories, maps can vary a lot:
Day 07 - green - From global biomass distribution to parks in Hamburg

Day 08 - blue - from the depths of teh sea to the river Elbe

maps as pieces of art from Martin Kleppe

Day 09 - monochrome - Hamburg and the world in monochrome design styles
In the end, over 120 great maps were created from our dedicated colleagues. We didn't want to miss the chance to choose our favorite maps of the challenge 2021: