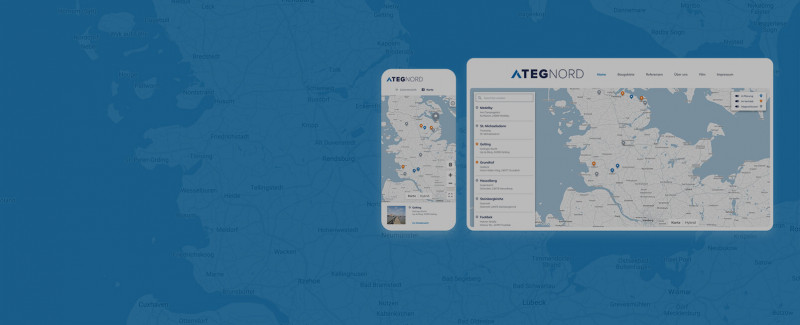 Building Site Map
Find, plan, and develop construction sites with the interactive map by TEG Nord
All-round service for future house owners
TEG Nord advises its customers on everything from the search for a building site to its construction. Its new interactive map makes it even easier to find a suitable site.
Interactive map for finding building sites
As an independent site development company, TEG Nord supports its customers in the search for attractive sites and in the planning and execution of construction projects. With its new interactive map, the search for building areas is now even easier for TEG Nord customers.
Find building sites with just a few clicks
TEG Nord wished for a modern, user-friendly, and easy-to-integrate construction area finder for its website. Based on Google Maps, we developed an interactive, responsive map on which TEG Nord's construction areas are displayed – with different markers for sites that are currently in planning, in distribution, or already completed. The map is integrated into the website via an iframe.
Great user experience with Google Maps
The well-known Google Maps interface makes it very easy for users to find their way around the map. By clicking on one of the map markers, they can access information on the different construction areas. Searching for a specific area is particularly fast and easy by making use of the Autocomplete feature of the Google Places API: Locations and building areas are being suggested for selection while the user is still typing.
Simple backend for easy maintenance
In order to keep the map up to date at all times, TEG Nord can maintain the displayed information via a simple backend. Using the Google Sheets API, existing construction areas can be edited and new areas added – the information is then updated directly on the map. To ensure that the construction areas are displayed correctly, automatic geocoding is used to validate the addresses.
Custom integration into the Wix website
A special requirement in this project was the integration of the map into the Wix system used to create the TEG Nord website. Wix limits the possibilities of integration via iframe – in our case e.g. regarding the maximum width of the map. By developing a custom web component for Wix we were able to successfully circumvent these limitations.
Check out the site finder
When I look at our homepage now, I am so happy about the innovation that Ubilabs has developed for us with Google Maps. This is a quantum leap for me – especially from a user and customer perspective.