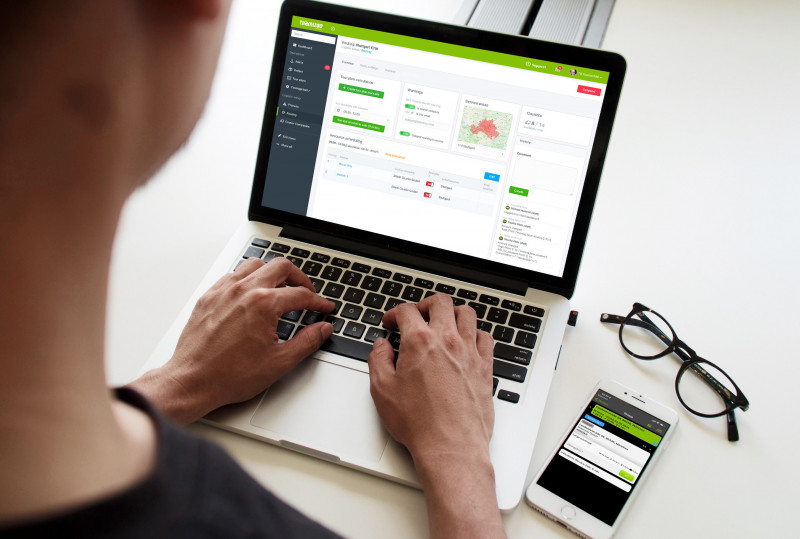 Insights |
tiramizoo: Google Maps Platform cuts delivery times by 20%
Thanks to the Google Maps Platform (GMP), deliveries arrive faster and more efficiently. The German company tiramizoo manages to automate logistics management as far as possible with the help of GMP. tiramizoo powers its delivery service and SAAS delivery app with Google Maps Platform and Compute Engine, allowing it to automate logistics management at scale.
Google Cloud Results:
Improves delivery efficiency and reduces costs with Routes APIs and high-quality data with the Geocoding API
Scales route calculations up and down as needed with Distance Matrix API and Compute Engine
Manages expectations and fosters closer customer relations with real-time, automated delivery scheduling and notifications
Ecommerce has changed the way consumers browse, decide, and click to pay for goods and services. That final click by the customer triggers the first step for German logistics company tiramizoo, which specializes in last mile delivery in major metropolitan areas. Founded in 2010, tiramizoo initially distinguished itself by offering the first same-day delivery options in Germany.
"Europe was a difficult place to start a logistics company, due to long-established players and complex regulatory requirements," says Martin Sträb, CEO at tiramizoo. "We had to be smart to stay competitive."
Today, the company operates in over 20 cities across Europe and Asia, working with some of the biggest name brands in various B2C and B2B industries, including Zalando, Daimler, BMW, Shell, and Saturn.
In addition to the full delivery service, tiramizoo also offers a technological solution in the form of a logistics management app, named after the company. The app integrates with clients' online stores and automates the route planning, courier scheduling, and delivery management as much as possible. In order to make such a solution at scale, tiramizoo turned to Google Maps Platform.
"As we expanded across Europe and also into Asia, we realized that we needed a high-quality mapping solution that scales without compromising on performance," says Martin. "For us that meant building our technology with Google Maps Platform."
Sophisticated route planning at scale with Google Maps Platform
As a startup, tiramizoo kept its edge against bigger, more established rivals by making the best use of its mapping technology. When it launched, the company's internal mapping and route planning solution relied on open source data and technology for maximum flexibility at minimum cost. However, as tiramizoo expanded across Europe, the open source platform began to suffer from issues of data quality and slow performance. Some of the new cities that tiramizoo was operating in had less precise addresses than the company was used to and would require much more compute power to adequately plan a route in time.

At the same time, tiramizoo was beginning to pivot to a new business model. Alongside the traditional full-service delivery, the company planned to develop its internal platform into a commercial app. With a fully automated software-as-a-service logistics management app, tiramizoo could target more clients and scale its business internationally. In order to do that, it needed a more reliable, more effective mapping platform.

The company's internal mapping solution was designed to be platform agnostic. This allowed it the flexibility to change platforms and configurations without disrupting service. After trialling several open source and commercial options, tiramizoo decided on Google Maps Platform because of the high quality of its data across the world and its competitive pricing.
Google Cloud users for five years
While the company had been using elements of the platform since 2012, by 2014 it began to migrate its entire solution over to Google Maps Platform along with Google Cloud infrastructure to speed up route planning. The company engaged mapping specialist and Google Cloud Premier Partner Ubilabs to help implement the new technology.
"We work with tiramizoo to get the most out of Google Cloud and Google Maps Platform for its cutting-edge same-day delivery solution," says Clemens Gerth, Google Cloud Consultant at Ubilabs. "We're pleased to help them with our long-standing experience."
The tiramizoo app provides value to clients by automating as much of the logistics management as possible after integrating with their online stores. When orders come in, the app determines the delivery address with Places Geocoding API. From here, tiramizoo uses the Routes APIs such as Distance Matrix API to calculate the appropriate distances and to assign the plans to the available drivers.
"Distance Matrix API is the one we use most heavily," says Mateusz Jurasek, CTO at tiramizoo. "It feeds directly into our route optimization engine which is the heart of our product."
The route calculation stage is crucial but can be expensive with more traditional technology and infrastructure. With Compute Engine virtual machines, tiramizoo can scale its compute power up and down as needed, without having to sink costs into expensive hardware that sits idle in off-peak periods.
"Imagine you have an order, so you have to plot a route with ten points," explains Till Haunschild, Senior Developer at tiramizoo. "If we get ten orders, that means ten times ten points to add to our calculations. Our route planning has to scale exponentially, and that can make things very slow or expensive on in-house servers."
With the addresses geocoded and the routes calculated, the app disseminates the plans using Street View Static API and Maps Static API, which keeps clients and their customers updated on their deliveries in real time.
More efficient deliveries, more satisfied customers
Since Google Maps Platform, tiramizoo has delivered more than a million packages over a distance of more than 10 million kilometres. The company's delivery service has seen remarkable improvements, with 30% more packages delivered per hour, 20% less time needed for deliveries, and 30% fewer vehicles. Perhaps the biggest impact has been with the introduction of the app, which has allowed tiramizoo to expand its business to 160 cities across Europe and, more recently, into Asia.
"It's fair and important to say that without Google Maps Platform, we wouldn't have been able to build our app and grow this rapidly," says Martin. "For us, there's no other solution with the same level of reliability and data quality at the global scale."
Die Google Maps Plattform hilft auch den Kunden von tiramizoo, die Benutzerfreundlichkeit der App zu verbessern. Kunden können benachrichtigt werden, wenn ihr Fahrer einige Minuten entfernt ist. Im Rahmen des Benachrichtigungsprozesses erhalten die Kunden auch eine Karte, auf der genau angegeben ist, wo ihre Lieferungen erfolgen sollen. Bei einem Fehler oder wenn die Kuriere den falschen Eingang benutzen, können Kunden auf der Karte angeben, wohin sie gehen sollen. Die tiramizoo-App kann auch automatisch die Flotten der Kunden mit verfügbaren Kurieren verwalten, um in Echtzeit zu berechnen, ob Express- oder Same-Day-Lieferungen möglich sind oder nicht. Durch das Management der Erwartungen vor der Lieferung hilft tiramizoo seinen Kunden, engere Beziehungen zu ihren Kunden aufzubauen.
"Mit der Google Maps-Plattform und der Compute Engine führen wir ständig eine Eingangsmanagementsimulation durch", sagt Mateusz. "Das bedeutet, dass der Kunde immer weiß, welche Lieferungen möglich sind und welche mehr Kosten verursachen oder mehr Zeit in Anspruch nehmen. Damit das funktioniert, brauchen wir ein gut funktionierendes System, das viele Berechnungen im Handumdrehen durchführen kann."
Google Maps Platform also helps tiramizoo's clients to improve the user experience with the app. Customers can be notified when their driver is a few minutes away. As part of the notification process, customers are also sent a map specifying exactly where their deliveries will be made. If there's an error or the couriers are using the wrong entrance, customers can indicate on the map exactly where they should go. The tiramizoo app can also automatically manage the clients' fleets of available couriers to calculate in real time whether or not express or same-day deliveries can be made. By managing expectations ahead of the delivery, tiramizoo helps its clients to forge closer relationships with their customers.
"With Google Maps Platform and Compute Engine, we're constantly running an intake management simulation," says Mateusz. "This means that the client will always know which deliveries are possible and which will add more costs or take more time. For that to work, we need a well-run system that can make lots of calculations on the fly."
As tiramizoo grows, it continues to explore additional features and potential improvements with Google Maps Platform. Ubilabs is also helping the company to understand how Google Cloud products such as BigQuery can help with data analytics. For tiramizoo's expansion into Asia, the Places family of APIs in particular will help it to geocode locations and plan routes in areas which are less well defined.
"We're very impressed with the Google Maps Platform ability to suggest a proper location using Places APIs," says Mateusz. "It's something I think we'll definitely be taking more advantage of in the future."
This article is from Google and was originally published here