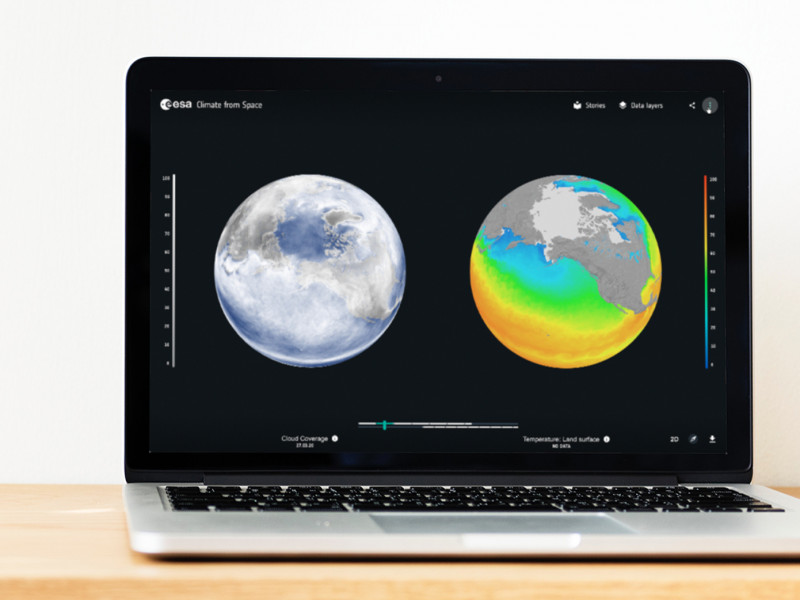 Insights |
ESA: Storytelling makes climate change tangible
Is ozone good or bad? What causes the loss of biodiversity? The ESA's Climate from Space platform provides answers to these questions. We have prepared the enormous amount of satellite data - and presented it in an attractive and easily understandable way.
The climate and the consequences of climate change can be experienced via an interactive globe. Climate from Space is primarily aimed at educational institutions, but is also exciting for anyone who wants to understand climate models without any previous scientific knowledge
Climate from Space - for schools, for all of us
Climate from Space was created from a database that was mainly used by scientists. Using tables and own calculations information could be created. However, the platform should also be usable for non-scientists. That is why Ubilabs was commissioned to prepare the ESA's satellite images in such a way that they are easily accessible to everyone - and tell a story. The application is not entirely new. We made it accessible to the general public as a web application. Climate from Space will also find its place in school lessons in particular.
Exploring the world climate in a playful way
IAn interactive globe is at the center of the platform. Users can use it to navigate to the most important climate issues. Numerous stories provide catchy examples, plenty of background information and supplemented by photos, videos and animations. The globe can be used to explore the individual phenomena: Deforestation can be linked to the construction of cities, and the disappearance of the ice is visible via a timeline. In addition, variables can be compared with each other, making much more complex relationships visible that are not obvious at first glance. Through the animation of the globe and the stories, Climate from Space is an intuitive learning platform that appeals to users with a wide range of previous knowledge.
Technical details:
The source code is available on GitHub. Our team was responsible for consulting, technical conception, data preparation in the Google Cloud, development and design.